To place an order, please complete the order form. Please  read our
website policy
page. We can not process your order without all this information.
We accept Paypal and I can send you an invoice for payment once we have all the info needed.

We accept money orders and cashier checks. Sorry, no personal checks.

Please allow 1-3 business days for your order to be mailed.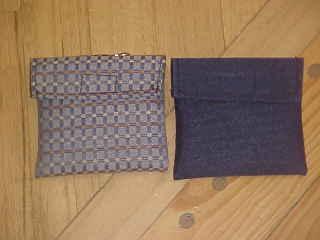 Bait Bags

Great for dog show handlers, dog trainers and also great for everyday use when walking your dog to put your keys, treats, etc. in.

These small and large bait bags are constructed of a water-resistant denier material in either a solid color, houndstooth or print.

The small bait bags measure approx. 4 1/2" x 4 1/2". They have a velcro closure and a tab on back with a loop and a safety pin.

Price: $3.75 or 2 for $7.00.

The large bait bags measure approx. 6 1/2" wide and 10" overall length. These have a black polyweb tie.

Price: $5.00 or 2 for $9.00.

Spring/Summer Snoods: These are a 100% polyester in these solid colors: rust, medium purple, midnite blue & light blue.These are slick on both sides. We have a dark purple, cinnamon, powder blue, olive green, hunter green, gray, mauve, dark red,  & tan microsuede (slick against the dog, brushed texture on the outside).

Fall/Winter Snoods:
These are manufactured out of 100% polar fleece in either solids, prints or plaids. Pictured on left, The 2 pictured on right, bright pink and bright red are fuzzy on the outside, slick inside.
To see our 40+ polar fleece colors that are available,
click here.
Prices: Spring/summer and fall/winter.

Xsmall

Spring/summer: $4.50 each..

Fall/winter: $7.00 each.

Fits most of the smallest toy breeds.

Small

Spring/summer:$5.00.

Fall/winter: $8.00 each.

Fits Miniature poodles and Shih Tzu

Medium

Spring/summer:$6.00 each.

Fall/winter: $9.00 each.

Fits American English Cockerss, Cavaliers, etc.

Large regular

Spring/Summer: $7.00 each.

Fall/winter: $11.00 each.

Fits Springer Spaniels,Afghans, Standard Poodles, etc.

Large Wide

Spring/Summer: $8.00 each.

Fall/winter: $12.00 each.

Fits Basset Hounds and Chows.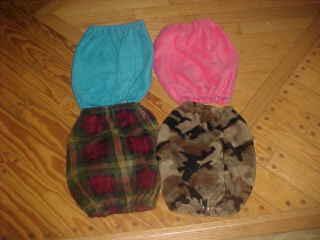 Polar Fleece Snoods for fall/winter