These masks have 2 options available to connect the mask behind the ears. 

The first pictures on the left shows the adjustable quick release closure.This can be adjusted to fit as needed using the slide, the quick release buckle or both. Once adjusted, you don't have to adjust it again. Just release to take if off and snap it together to put it back on.

The other type of closure is also adjustable and consist of a 1 1/2" metal slide & webbing sewn only on one end and a long piece of 1 1/2" webbing sewn on the other end.

To adjust this type, you have to put the webbing in the slide and tighten or loosen up to get it to fit properly.

If your cow has horns you would have to take the webbing out of slide to put it off and on.

The slide/webbing throat latch works the same way.

Prices:

XXSmall: $10.50

XSmall: $11.00

Small: $11.50

Regular: $13.50.

Large: $15.50.

When ordering you'll see 2 options where you can select which type of closure behind ears and which type of throat latch. You "must" select one of the options for each closure.

My cow fly masks are constructed of the same name brand UV poly mesh I use for my horse fly masks. They are bound in black binding.

These are my own patterns from doing months of research with cattle breeders and making and sending prototypes to get patterns and sizes worked out for all sizes of cattle.

These can have either a hook/loop closure or metal slide/webbing adjustment throat latch.

Click on the link below for mesh colors.

Please check out pictures of different breeds of cattle on my customer page links below. I try to put the breed of cattle, age and size of mask to help with ordering.


Questions? Just send me an email using the contact us link.

Please visit my "Home" page link to see other products and my terms/conditions links.




This is a 2 year old Scotthish Highlander cow wearing my regular size cow mask

This is a Butterscotch, a 12 year old mixed breed cow wearing my large fly mask.


Use this diagram and picture below to help you determine which size is best.

It's best to measure center of eye to center of eye or from outside corners of eyes.

This is the blue line on the diagram.

GUIDELINES ON SIZING.

If measurement at red line on Dexter below is:

  21"-24" you need the XXsmall

23"-26" you need the Xsmall.

28"-32" you need the small.

  36"-40" you need the regular.

                                             44"-48" you need the large.

This sizes above are with the hook and loop adjustment as shown on the red mask at the top of the page.

The metal slide/webbing adjustment as shown on the celery mask at the top of the page will adjust a few inches smaller and can be adjusted a few inches longer than the smallest and largest measurement above.

The metal slide/webbing adjustment works good for cattle that are between sizes or for cattle with really thick throats.

Cow masks are another method of helping prevent the spread of pink eye without the use of chemical fly sprays.

These are my 2 styles of our cow UV fly masks.

The celery mask on the left has a metal slide/webbing throat latch adjustment. This style is good for cows with a thick throat/neck since it allows for more adjustment.

The red mask on the right has the hook/loop closure.

Hook/Loop is the generic name for this brand name closure. It's the same closure I've been using, just a different name.

SEE below for link to mesh fabrics and prices.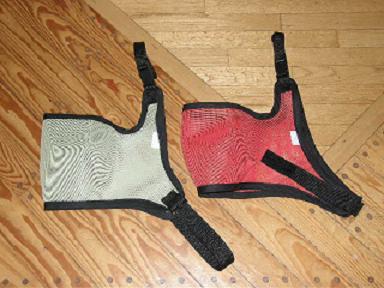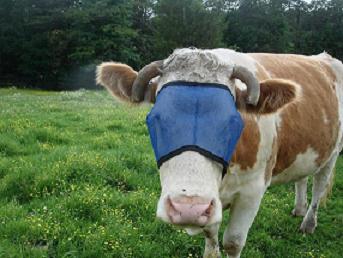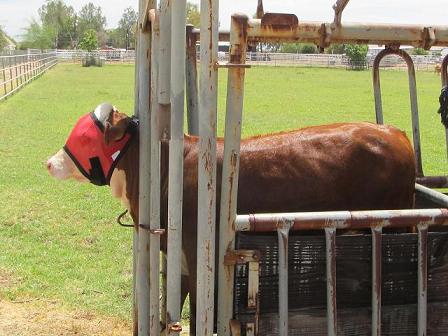 This is a 3-4 month old hereford/braham cross wearing my small fly mask.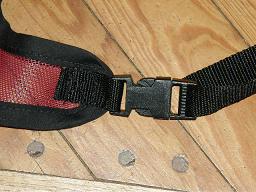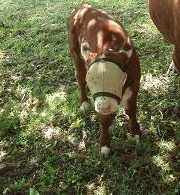 This is a 2 month old mini hereford calf wearing my Xsmall fly mask.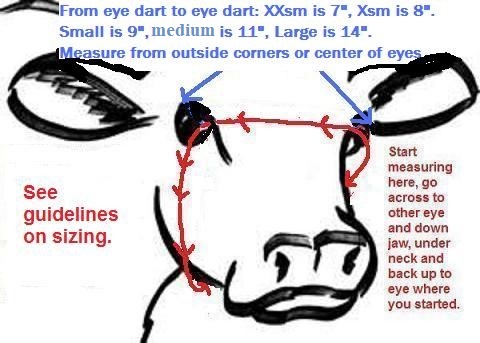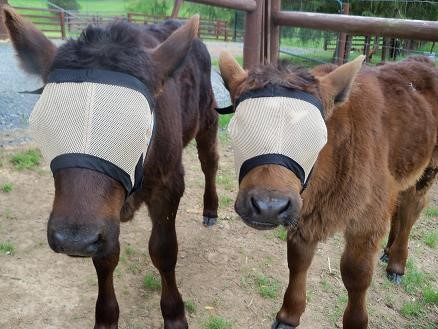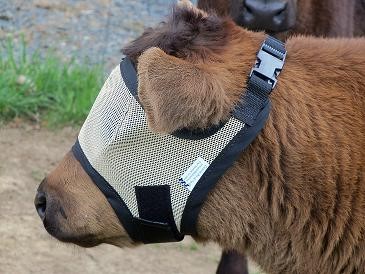 These calves are an angus/hereford mix and angus around 2-2 1/2 months old. Both wearing a XXSmall calf mask.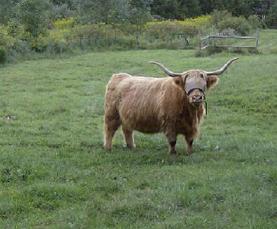 I only ship within the USA, no exceptions.

Cow masks are only available through my website.

Metal Slide/webbing throat latch

on left on celery mask.

Hook/loop closure throat latch on right on red mask.