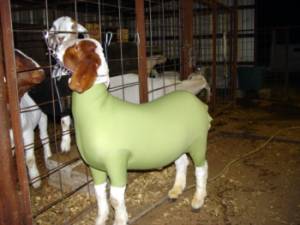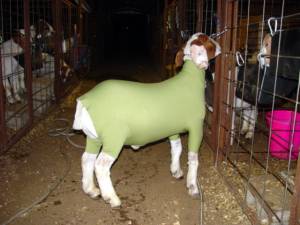 These are used after clipping or bathing to keep your goat or sheep clean before and during the shows. These also can be used under a coat for extra warmth.

These are manufactured out of a 4-way stretch polyester/nylon/lycra material. This provides warmth, keeps them clean, is breathable and wicks moisture away.  Colors: light brown, medium brown, beige, lime green (pictured above), olive green, maroon, orange and black. This material is far superior to cotton at wicking moisture away from your goats. This material will not get stretched out of shape or fade like cotton tubes do.

These are not sized by weight. The measurements given below next to each size is overall length of  your goat. This is the size you will need to order from the sizes below

Prices:

Small (fits 22"-28" length goats)................$15.00

Medium (fits 30"-36" length goats)............$17.00

Large (fits 38"-44" length goats)................$19.00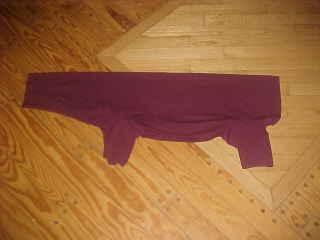 Above are 2 pictures a customer in OK sent me of one of his goats wearing one of our tubes. Thanks, Randy for sending these.

To the left is a maroon tube to show how they look not on a goat/sheep. These are put on over the head and each leg is put into the tube. These do not have a zipper or any type of closure. Machine washable and dryable on low heat.

Measure your goat or sheep exactly the same way as shown on picture where the red line is to get the overall length.

We will need this measurement when you order.

Example if your goat measures 32" going by this picture, you need a Medium size tube.

This page was last updated on: January 28, 2015


If this is your 1st order please go and check out our
Website Policy
page.
We will need your goats measurment in addition to small, medium or large.

If you have any questions, please use the contact us form.

To order please complete the order form with the size, color, and quantity needed.

Please fill out all the info that applies to your order on this form.

Items are not kept in stock. Please allow up to 2-5 business days for your order to be mailed after payment is received. For orders over 10 tubes, allow 7-10 business days.